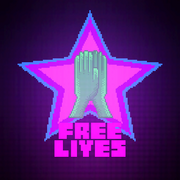 Free Lives is a game producers company founded as an independant studio by Evan Greenwood on 11 April 2012 at Cape Town, South Africa to develop Broforce. It is associated with the game publisher Devolver Digital since 10th February 2014.
The development of Broforce began from 20th to 23rd of April 2012 at Ludum Dare 23 by Black Ships Fill the Sky's team which was composed of Evan Greenwood (programmer), Chris Haigh (music composer), Jarred Bevis Lunt and Luke Viljoen (pixel artists).
Free Lives's known members are: Evan "Black Ships Fill the Sky" Greenwood (director, foundator, designer), Jarred Bevis "Junt" Lunt (lead artist), Ruan "raithza" Rothmann (programmer), Richard "Merrik" Pieterse (networking programmer), Duncan "punkweazel" Greenwood (animator, formerly) and Shaz Strauss-Greenwood (marketing, office management, press contact), Dawid Frederik Strauss (artist), Filip "SUPAVISI" Orekhov (artist), Basil Scordilis (social media manager), Jonathan "elyaradine" Hau-Yoon (technical artist).
The Broforce Brototype got on Steam Greenlight the 4th of September 2012 and was greenlit by the community on 24th July 2013. Then Broforce was released on Steam Early Access the 4th of April 2014.
After being contacted by David Edwards from Lionsgate, Free Lives created and released the game The Expendabros for free on Steam in association with Expendables 3 from 5th August 2014 to 31st December 2014.
The trailers are made by Kert Gartner, the narrator is voiced by Joonas Turner and the music is composed by Deon van Heerden.
Projects:
Super Smash Lander Suicide Party, Bro?
Ore Chasm
Death Smashers
Strange Happenings on Murder Island
Slice Fight
Kicky Fighter
Yojimbrawl
Community content is available under
CC-BY-SA
unless otherwise noted.